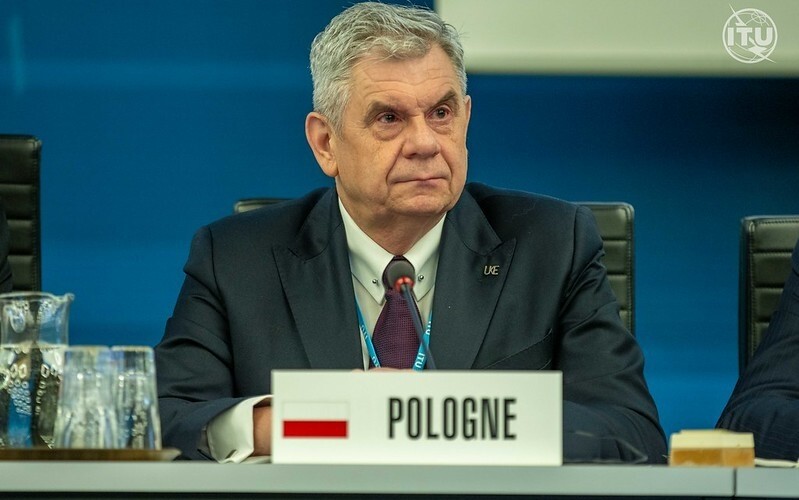 UKE President at the ITU Council
Today UKE President Dr. Jacek Oko, as a representative of Poland, took the floor at the High Level Session on "Ensuring universal meaningful connectivity for all". This session was held in Geneva within the Council of the International Telecommunication Union (ITU), in which Poland has been a member for over 100 years.
The President's speech, like those of the other panellists, focused on answering questions about the evolving digital divide, the tools needed to reduce it and the role of the ITU in this process.
The UKE President pointed out that digital divides have changed their meaning and access to telecommunications is no longer a privilege. He stated that information and telecommunications technologies play an important role today and accompany everyone in everyday life. As he pointed out, in Poland we are convinced that modern ICT tools are a key factor for rapid and sustainable development, especially when it comes to such areas as public services, e-health, education, training for the young and unemployed, or environmental protection. Thanks to our experience as representatives of UKE and MC, we can offer support to other countries in the area of infrastructure mapping, spectrum allocation, public e-services, infrastructure financing programmes, or research on the quality of telecommunications services.
The President emphasised that the ITU, as United Nations Agency , is a global organisation for the exchange of knowledge and experience and is at the forefront of digital development, as it can be seen from the countries that have achieved telecommunication development within ITU support.
"As a member of the ITU, we will continue to actively participate in the work of this organisation, both in the decision-making area in forums such as Councils, Conferences, as well as in leading, or participating in the work of expert groups". - said the UKE President.